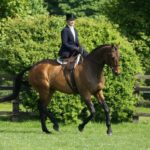 The results are in, the money has been collected and our donation has been made to the NHS Charities Together campaign.
Area 12 would like to thank everyone who supported our Virtual Spring Show, and our first attempt at staging an online show. We are incredibly pleased to announce that we raised a total of £486.10.
Thanks also go to our sponsors who paid for the beautiful Championship rosettes, to Area 12 for donating the Supreme Champion rosettes, and to our judge Mrs Ginny Oakley-Pope. Thanks also goes to Emma Richardson-Steele of Marlake Rosettes. The sponsorship raised ensured that we were able to donate all profits directly to the NHS Charities Together campaign.
We had a super array of entries, spanning several decades, and some overseas riders and it was great fun to see so many faces old and new taking part.
The championship rosettes have been sent out to the winners and should arrive within the next few days.
The results are as follows
Picture of Elegance
Class A2 Junior Rider                     Jessica Ross                         Rooan De Godiva
Class A3 Native Horse or Pony     Jacqueline Sutherland        Owen a Million
Class A4 Traditional or Cob           Vanessa Hood                      Flash Harry
Class A5 Show Horse/Hunter       Robyn Catterall                    Arctic Eclipse
Class A6 Costume Junior              Jana Carney                         Trixies Silver Spirit
Class A7 Costume Adult                Lauren Allin                          Oxnead Schann
Section Champion                           Lauren Allin                          Oxnead Schann
Mounted Equitation Turnout
Class B2 Junior Rider                     Georgia Duggan                  Sissie
Class B3 Native Horse or Pony     Hazel Allin                             Oxnead Schann
Class B4 Traditional or Cob           Sarah Edmunds                   Rocket Man
Class B5 Show Horse/Hunter       Louise Graham                     Corrileas Imp
Section Champion                           Louise Graham                     Corrileas Imp
Attention to Detail – Horse
Class C1 Best Plaits                        Alex Molesworth St Aubyn Taffechan Rough Diamond
Class C3 Best Tail                           Pie Truono                            Reno
Class C4 Best Native Tail               Hazel Allin                             Oxnead Schann
Class C5 Best Socks                       Vanessa Hood                      Flash Harry
Section Champion                           Pie Truono                            Reno
Attention to Detail – Rider
Class E1 Best Silk Hat                    Louise Graham
Class E2 Best Collar and Tie         Hazel Allin
Class E3 Best Hunting Tie             Alex Molesworth St Aubyn
Class E4 Best Long Boots              Lottie Parkin
Class E5 Best Short Boots             Jacqueline Sutherland
Section Champion                           Louise Graham
Just For Fun Side Saddle Related
Class F1 Best Junior                       Jana Carney                         Trixies Silver Spirit
Class F2 Best Adult                         Cath Mcalinden                    Ma Tweed
Class F3 Junior Action                    Georgia Duggan                  Sissie
Class F4 Adult Action                     Roger Edmunds                   IO Silver Lightning
Class F5 Junior Disaster                Jana Carney                         Trixies Silver Spirit
Class F6 Adult Disaster                  Sarah Edmunds                   Hambleton Harry
Class F7 Something only…           Kirsty Heathcote                   Galloglass
Class F8 Cutest Pony                     Jemima Somerfield             Bessie
Class F9 Handsomest Horse         Kirsty Heathcote                   Galloglass
Section Champion                           Sarah Edmunds                   Hambleton Harry
Just For Fun Astride
Class F5 Horse                                Roger Edmunds                   Masefen Manor
Section Champion                           Roger Edmunds                   Masefen Manor
Reserve Junior                                 Georgia Duggan
Supreme Adult                                 Louise Graham
Reserve Adult                                   Lauren Allin
Extra Awards – competitors or photographs that made the judge and organisers smile
Chloe Marsh
Alex Molesworth St Aubyn
Jana Carney